Fully Managed Hosting by Liquid Web

Backed by the Most Helpful Humans in Hosting® 24/7/365

We're the employees you would hire if you could. Responsive, helpful, and dedicated in ways automation simply can't be. We're your team.  Monitoring your servers, mitigating risk, optimizing performance. And if you need advice or support, work with one of our 250+ Windows, Cisco and Red Hat Linux Certified technicians quickly and on your first contact.
We Stand Between You and What's Out There
At Liquid Web...
We've built a company with the sole focus of making sure our customers can rate us with the highest scores in the hosting industry. And they have.
Our new support tech receive over 300 hours of training in the first 12 months of their tenure. We take "expertise" seriously!
In 2019, we made 62 unique custom signatures to protect our customers using CMS and other web software.
From a sampling of over 2000 servers, we block over 2800 malicious requests per server per day.
We support over 25,000 servers for 30,000+ customers like you.
Keeping your data safe and secure is crucial. When you create a dedicated server, we automatically harden it with our exclusive ServerSecure® service.
The Most Helpful Humans In Hosting®
A name we work to earn the right to be called every day
Choose the way you want to buy and manage.
Are you a Linux admin?  Are you a Windows power user?  Or, do you want to focus on content and let us run your Managed WordPress or platform. Choose from a full suite of hosting solutions to meet your specific needs.
Access Hosting Advisors who will help you find the right solution.
We're here to help you figure out the hosting solution that best matches the needs of your project, including designing a custom, multi-server platform.
When growth finds you, find us.
If you want to build a multi-server platform, for an extra charge, we will take on replication of code and content across servers or data across database services.
Managed services. Not just servers.
We call it Hosting Without the Hassles. We're monitoring your server and the services on your hardware, ensuring your OS and control panel is patched and up to date.
Around the clock – teams dedicated to your server and mission-critical sites and apps.
We do the server stuff so you can sleep at night. Around the clock you have our Level 3 Technicians on site at our Data Centers and our fully staffed Monitoring, Security and Network Teams focusing on our network, platform and your servers.
Web Hosting without the worry. Rely on us 24x7x365.
Need help at 2AM? We've got your back. We make your problem our problem, so it's no longer one. We're available to interact the way you prefer – by phone, chat, ticket or via our online help at your fingertips and convenience.
We'll make it easy for you to make the switch.
No contracts required. Transparent pricing. And an entire team dedicated to help you migrate your data from your current host. We provide complimentary migrations for new server orders for most hosting control panels (Interworx, Plesk, and cPanel). We are always available for free advice and can also offer custom migrations from nearly all other types of hosting and CMS systems.
With the Most Helpful Humans in Hosting®,You're Never Alone
Web Hosting without the worry. Rely on our 24/7/365 Human Support.
59
Second Initial Response Guarantee
59
Second Initial Response Guarantee
59
Minute Initial Response Guarantee
We Let You Choose Your Level Of Management
Fully Managed
Our expert techs manage your hardware, web server and offer Beyond Scope Support for third-party software. Fully Managed servers include Interworx, Plesk or cPanel, industry-leading control panels.
Core Managed
Looking for management but don't require a control panel? We'll manage your server's infrastructure, hardware, and the core elements of the LAMP Stack.
Self Managed
If you're an expert user who needs to fully customize your server, self management is available. We'll manage the hardware and infrastructure while you manage the server.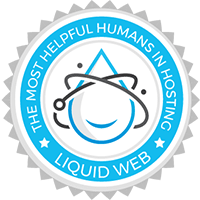 Your Team at Liquid Web
With dedicated departments available 24/7/365, our teams are empowered to solve problems or prevent them from occurring in the first place.
Redundancy. N+1 generators, N+1 UPS systems, N+1 HVAC systems. Level 3 Technicians on site at our wholly owned, core data centers.
Identifying and blocking cyber threat activity using threat intelligence and vulnerability management to provide advanced host and network protection.
The Most Helpful Humans in Hosting®
250+ Certified Employees: Red Hat, Windows, Cisco, Interworx, Plesk, cPanel. Our experts are available via phone, live chat, email, or ticket.
Hosting Advisors will help you find the right solution.
Restoring from backups is our specialty.
Ensuring our data centers and your server instances are always accessible.
Providing peace of mind via proactive monitoring 24x7x365.
A dedicated team to help you migrate your code, content, and data.
Custom building your servers around the clock.
Call, Chat or Email with Web Hosting's Best Customer Service
1.800.580.4985 | 1.517.322.0434