Our People, Products, Promises
Powering Your Business Potential™

Our Mission is You - WPSiteSync
Liquid Web is a hosting company totally devoted to web and cloud professionals like you. Growing businesses and the Designers, Developers and Agencies who create for them. It's our focus. And that focus translates to products, services and support designed specifically for mission-critical sites, stores and applications. Our nearly 250+ experienced administrators, engineers, and technicians are dedicated and empowered to make your life easier so you can focus on the work you love. For us, it is all about Powering Your Business Potential™.
Why Liquid Web?
In this age of technology, we give you more than just the best and widest choice of hosting products. We give you The Most Helpful Humans In Hosting®. Because we believe the more you need technology to fuel your business, the more you need expert, caring people to be there for you.
For More Than 25 Years, We've Been Serving Customers Like You
45,000+
Customers in Over 150 Countries
500+
Hosting Professionals On-site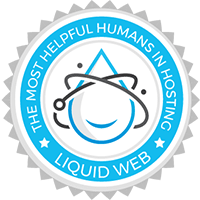 We're Here to Help
Helpful is our full-time job. The very human kind of people-plus-technology support that goes above and beyond - way beyond - any other hosting provider. And we like it that way. We call it being the Most Helpful Humans in Hosting®.
Level 3 Technicians Staffed on-site at our Data Centers focused on monitoring, security and network
250+ Red Hat Linux, Windows and Certified Administrators
24/7/365 Live Chat, Email or Phone
Product Innovation and Hardware Refreshes that keep our customers on the latest technologies
Big or Small. We've Got Everything You Need to Grow.
We have a broad portfolio of products - built the way you want to buy and manage. We can also custom build an Enterprise Hosting Solution.
Database Hosting
Reliable hosting for mission-critical databases.
HIPAA
Compliant hosting for the healthcare industry.
With the Most Helpful Humans in Hosting®, You're Never Alone
Web Hosting without the worry. Rely on our 24/7/365 Human Support.
59
SecondrnInitial Response Guarantee
59
SecondrnInitial Response Guarantee
59
MinuternInitial Response Guarantee
When We Say Fully Managed, We Mean It
Not just Managed Servers. Managed Services.We take on your server administration, including hardware management, network management, operating system and pre-installed software support, proactive security patches and updates, and proactive service monitoring and restoration.
We'll Be Here Tomorrow
Backed by Madison Dearborn Partners, LLC ("MDP"), we have the scale, financial strength and expertise to deliver the industry's best experience and be a winner in the consolidating hosting landscape.
Our Focus is You.
We've intentionally designed our broad product portfolio, customer experience and managed hosting services to power the potential of Entrepreneurial businesses and the designers, developers and agencies who create for them. Our customers recognize the value we deliver and count on us to be their experts when it comes to hosting infrastructure. And every day, 24/7/365, we work to earn their trust and loyalty.
That's why Liquid Web is the most loved managed hosting provider in the industry with a leading NPS score of 67.
"Liquid Web....Becomes Indispensable."
"As businesses move more of their operations online, they have increasingly complex needs and requirements. It is difficult to address this situation with a one-size-fits-all platform and the skills of a service provider and an extensive portfolio of services - that can be found at providers like Liquid Web - becomes indispensable."
Philbert Shih, Managing Director Structure Research
Inc. 5000 12 Time Honoree
Liquid Web has made the Inc. Magazine's annual list of 5000 fastest growing companies 12 times
Liquid Web Has the Fastest Managed VPS
Ranked #7 of Cloud Providers
Liquid Web was ranked #7 by Channel Futures' Talkin' Cloud in 2016.
G2 Leader, Small Business
Liquid Web is a Leader in G2's Small-Business Grid Report for high scores in Satisfaction and Market Presence.
This is some very quotable text that should be tweeted far and wide!

Click to tweet.